Our Art Gallery
The Tombaugh Art Gallery
Located at 2000 South Solano Drive. Open Wednesday, Thursday, Friday and Saturday from 10 AM to 2 PM or by appointment.
For details, call (575) 522-7281.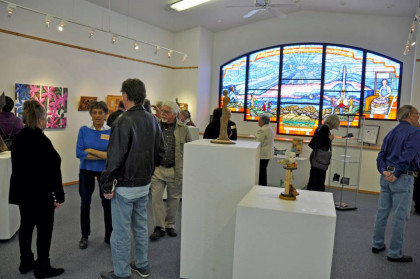 Find us on Facebook: https://www.facebook.com/tombaughgallery
Artists who wish to show their work in a superior exhibition space should consider the Tombaugh Art Gallery.
Gallery Mission
The Tombaugh Art Gallery reaches out to the wider community so that thought-provoking art may be contemplated within an open, tolerant and forward-reaching faith community.
About Our Gallery
The art gallery is in its own wing at the Unitarian Universalist Church of Las Cruces. The Tombaugh Art Gallery provides a beautiful and intimate venue for exhibitions of art by local and regional artists. One- and two-month exhibits throughout the year offer our members and the wider community the opportunity to experience, enjoy, and learn about art in all forms, and offer a chance to see things differently through interactions with the artists and their work.
The Tombaugh Art Gallery exhibits the work of both established and emerging artists in one-person and group shows. The shows are selected a year in advance from proposals submitted to the Gallery Committee, a group of volunteers who manage, curate, and publicize the Gallery's activities. The Gallery also features special exhibits that explore our Unitarian Universalist values and celebrate the creative endeavors of our members and our children.
Established in 2000, the Tombaugh Art Gallery has built a reputation as an outstanding and professional exhibition venue. It features a flexible, climate-controlled space, high ceilings, and fine lighting. Galley Committee members help artists mount, publicize, and promote their shows. Exhibitions, openings, demonstrations, artist's talks, and other related activities at the Tombaugh Gallery are staffed by volunteer docents who welcome visitors and introduce them not only to the art on display but also to the Unitarian Universalist Church of Las Cruces.
We believe that art deeply touches us all and helps us connect with the world around us. The Tombaugh Art Gallery is proud to host artists who use their skills not only to celebrate the beautiful but also to speak out against the ugly and unjust.
For more information, please contact the Tombaugh Gallery at 575-522-7281.