Accessibility
Accessibility is important to everyone; we believe it is simply smart design. We welcome people of all abilities because we don't want to keep anyone from taking part in worship or other church activities. If you have a hidden disability that you think it's important for someone to know about, please contact the minister to share your information in confidence.
EqUUal Inclusion improves accessibility
We promote recognition, understanding and appreciation of both seen and unseen differences among all people. We want to create an open, loving community.  These are some of the activities we use to carry out our mission include everyone in church life: workshops, "Telling Our Stories" Roundtable Talks, an external audit of our facilities to find accessibility issues, and improved signage.
We also join with the National Association on Mental Illness (NAMI) and the National Association for the Advancement of Colored People (NAACP) to work on inclusion projects.
Some Sunday worship themes and sermons address the need for greater diversity and accessibility.
The church takes part in the Black Lives Matter campaign.
Chemical Sensitivity
We use odorless candles and we encourage our membership to avoid using perfumed products and cologne. All buildings are all smoke-free.
Hearing
We have assisted hearing devices that receive sound from our sanctuary audio system. During all church meetings and workshops, anyone wishing to speak from the audience is strongly encouraged to use the portable microphones so those who are hard of hearing are not excluded.
Mobility
Our sanctuary, fellowship Great Room, and religious education classrooms are fully accessible to those using wheelchairs or having limited mobility. We have wide doors into the church lobby, sanctuary, and Great Room, however, a few doors may be difficult for some people to open without help. All of the rest rooms are fully accessible.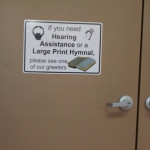 Parking
We have parking spaces, in both the south (shown) and north parking lots, dedicated to folks with mobility issues. In addition, all sidewalks into the buildings have accessibility ramps.
Pastoral Care
Pastoral care is available to everyone regardless of ability. We want to know if you feel unwelcome, patronized or marginalized because of a disability. We might not be able to remedy every situation, but we can give a compassionate ear and a willingness to enlist the help of others.
Sight
Large print hymnals and Orders of Service are always available. Please ask any of our Sunday greeters for help.
If you would like a campus orientation tour during the week, contact the church office to make arrangements.


Special Needs Children
If you want your child to take part in the religious education program and feel that they may need special help due to learning disabilities or behavioral issues, please contact the Director of Religious Education. We want your child to have a happy and fulfilling experience at our church.
Questions?
If you have other questions, please contact the church office.