Tombaugh Gallery
Call for artists for 2019 shows
The Valley and Its People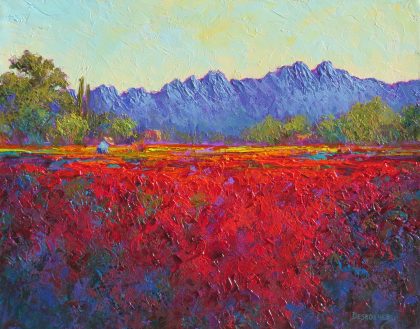 The Tombaugh Gallery proudly presents "The Valley and Its People", an exhibit featuring Jeri Desrochers' oil paintings and Diana LeMarbe's sculptures. There will be a reception on Sunday, October 7, 11:30 to 1:00, with artist demonstrations at 11:45. The exhibit continues through October 20.
Jeri Desrochers finds inspiration to paint in the intense light and color of the Southwest landscapes. She appreciates the "deep purples that glow through the shadows in this starkly beautiful area of the country. I often begin my oils with a background of transparent glowing tones that peeks through the thick impasto texture of surface colors."
During the 1990's Jeri concentrated on watercolor, then experimented with glass and sculpture during the early 2000's. Now she has found her passion in thick impasto oil paint, experimenting with new techniques and materials, always striving to push the boundaries of color and texture.
Diana LeMarbe is mesmerized by the body movement of ordinary people going about their ordinary tasks of life. As an artist in her senior years, who on several occasions has lost mobility and regained it, she is acutely aware of the beauty of movement. She watches the fluidity of movement with the eye of a sculptor. She does not attempt "to stylize, pose, or impose false dignity on my work, but rather capture the unconscious delight of motion."
Diana has lived in the Deming area since 1979. Her specialty areas have been jewelry making and pottery. She now considers herself a tile maker and sculptor. Her current work is with fiber clay sculpting human forms. This clay body is not fired and is built on a metal armature. It looks like bronze, but unlike metal, is affordable!
For details, contact Gallery@uuchurchlc.org, or call the church at 522-7281. The Tombaugh Gallery is located inside the Unitarian Universalist Church, 2000 South Solano Drive, Las Cruces, NM and is open Wednesday – Saturday 10 am – 2 pm. Visit the gallery on Facebook.