Our Newsletter
Services Every Sunday of the Year | Volume 63, Number 10
October Light

Our 63nd Year
Newsletter of the Unitarian Universalist Church of Las Cruces
October Symphony
One of my favorite songs is by the Pet Shop Boys, titled "My October Symphony." The opening lyrics are: So much confusion / When autumn comes around / What to do about October / How to smile behind a frown? / It's hard to settle down. I keep the song in my running and swimming playlists.

Well, October around here has a lot going on, so it could very well be confusing. Luckily, we have a very capable staff and many top-notch lay leaders and volunteers to deal with the moving parts. We're all moving at the speed of church!

There will be our board retreat (the staff retreated on 22 Sep), Stewardship Sunday, and the Ministry Start-Up Workshop facilitated by Unitarian Universalist Association staff. It's a lot to keep track of. But, don't worry. We got you!

I do hope that you will put these important events on your calendar and plan to attend. Especially, the Ministry Start-Up Workshop, which will help us all better understand the tasks of shared ministry as I settle into my new role.

You won't want to miss Dr. Janice Marie Johnson and Dr. Amy Rowland, who will lead the workshop and preach on Oct 21. The title of their joint message(s) will be "Centering." It's all about how we'll center the new ministry and set ourselves up for success.

All of this activity means that we have more reasons to smile rather than to frown. Autumn has set in with the cooler temps, and by the time you read this, the state fair will have come and gone.

And did I mention that six people have signed the book recently! One, on her special day, was #999. The last, as of this writing, was #1,000! Say "amen," somebody.

All of us have a part in Our October Symphony. I'm looking forward to seeing you and hearing the beautiful music that we make together.

Blessings, Rev. Xolani
Board Actions
The purpose of this column is to keep you informed about recent Board of Trustee actions. Complete minutes of all Board meetings may be viewed in the office; please contact the Congregational Administrator.

Sep 19 2018, Board Meeting

Proposed Budget: Finance Committee Chair, Dick Bagby, led members through the proposed budget for 2019 after which Chris moved with a second from Laurel that the proposal be accepted. Motion carried.
Upcoming Services
All Souls Sunday: Born Again Through Our Ancestors
Being in relationship with our ancestors can provide a new sense of self. It's akin to being "born again." Let's explore some ideas. In addition, we will be welcoming our new members to the congregation at this service!
Thanksgiving Service
This will be a multi-generational service of Thanksgiving. The Caring Committee will be commissioned at the 10:30 service. Commissioning is a ritual that formally acknowledges the Caring Committee as the congregation's care team. We encourage all committee members to come and participate in the ritual.
Upcoming Roundtables
Education never ends. Come join our discussions. Our goal is to learn more about all sides of issues and more about each other. If you have a comment or suggestion, email it to roundtable@uuchurchlc.org.
Sun, Oct 28, 2018, 10:30 AM in the Library
Roundtable: Opiate Overdose Response Education and Narcan Distribution

Presenter is Athena R. Huckaby, MPH, Overdose Prevention Educator, Doña Ana County
The United States Surgeon General has recently recommended that EVERYONE carry naloxone because the opiate epidemic is so pervasive and affecting our communities so deeply. We will be supplied with our own FREE naloxone (Narcan) kit, and we will learn to:
Prevent an overdose
Recognize signs of an opioid overdose
Respond to an overdose (accessing 911 emergency medical care, rescue breathing, administering naloxone, post-resuscitation care)
Social Justice
Let Justice Roll Down Like Waters (Amos 5.24)
Benefit Concert
Tuesday, OCT 2, 7 PM

Unitarian Universalist Fellowship Hall
3845 N Swan St, Silver City, NM
In Support of No Más Muertes (No More Deaths),
a Tucson based organization for immigration justice

Nashville Songwriting Duo check out their music at: www.marewakefield.com  or see their YouTube channel

Suggested donation $10. No one turned away. Overflow parking at PNM Building south of the Fellowship Hall
Concierto Beneficio
MARTES, el dos de octubre, a las siete de la noche

Unitarian Universalist Fellowship Hall
3845 N Swan St, Silver City, NM
Para Apoyar No Más Muertes (No More Deaths),
una organización basada en Tucson que trabaja por justicia de inmigración

Un Dúo Compositor de Nashville
Explore su música a: www.marewakefield.com  o vea su canal de YouTube

Se sugiere una donaciόn de $10. Estacionamiento exceso en el edificio de PNM, al sur de Unitarian Universalist Fellowship Hall
Worth Noting
2018 WomenSpirit
The 17th Annual WomenSpirit Retreat took place in the beautiful mountains of Sacramento, NM just south of Cloudcroft on September 14-16th, 2018. Thirty adult women from our church and the community gathered around to celebrate the theme of "Taking Shape" with three mother/daughter pairs in attendance. Early bird registrants received a free WomenSpirit t-shirt designed by Bonnie Hosie.

Nine people arrived early on Thursday this year for a little R & R before the festivities began. After dinner and the opening ceremony, shopping began in the Funky Fun Shop. Our Funky Fun Shop made $214 and $480 donations were made to the scholarship fund for a total of $694. This year the WomenSpirit committee awarded two full scholarship and has funds to award several more next year.

As the weekend progressed, women gathered around a table to learn origami and folded square paper into flowers, boxes, balloons and animals. Some people were seen completing a very complex puzzle and playing games while others kept busy with classes on metaphysics, dance, eco-print and dyeing, Tai Chi Chih and creative writing. Each morning several people went on a sunrise hike, witnessing deer and elk all around. There was a massage therapist on hand offering massages all day Saturday. In short, there was something for everyone!

At night, attendees congregated around a campfire with four different treats: apple or cherry campfire pies, banana boats and s'mores. The unusually warm sun made the mountains picturesque and a few people wore shorts around the fire.

The annual Talent-No Talent Show highlighted Saturday night. Individuals and small groups entertained with performances of dance, song, poetry, and even mandolin playing–plus jokes galore! There was "no talent" involved and it was boundless fun and laughter!

The kitchen crew at Sacramento Methodist Assembly was exceptional as always! They filled everyone's bellies with offerings like fajitas, black bean burgers (vegetarian option), Salisbury steak and the traditional Sunday breakfast with fresh cinnamon rolls. The crew prepared dessert to delight the palate every night; one favorite was apple crisp. It was a struggle not to overindulge!

As the weekend wound down with the traditional closing ceremony, a beautiful community had formed over the two days with much compassion and hugs shared by all. The dates for next year have not been finalized, but stay tuned for a save the date notice.
Don't Forget
Oct 4 Facing Life with Death
Eight consecutive sessions, beginning Thursday, October 4, at 11:00 AM-12:30 PM; Religious Education Building
This program facilitates a process of personal reflection, learning, and spiritual growth focused on the topic of death and dying.
Facilitated by Susan Freudenthal, Director of Religious Education.
Oct 7 Artists' Demonstration
The exhibit "The Valley and Its People" continues at Tombaugh Gallery through October 20. Artists Diana LeMarbe and Jeri Desrochers will each give demonstrations of their art process at a reception on Sunday, October 7 at 11:30, with the demos beginning at 11:45. Diana's fiber clay sculptures reflect her fascination with the body movement of people going about the tasks of everyday life. Jeri's oil paintings reveal the intense light and color of Southwest landscapes.
Oct 14 Annual Pledge Drive Kickoff
On October 14, 2018 we kick off the annual pledge drive to raise the money we need to fuel the continued development and vitality of our congregation.  Please plan on joining your fellow UUs at the Unitarian Universalist Church of Las Cruces following the 10:30 AM service for a Pledge Drive Kick-Off Luncheon in the Great Room of the Religious Education Building. Come celebrate your membership in this beloved community.  In faith, your Pledge Drive co-chairs — Dave Steele and Karen Hall
Oct 19 Dining Out
October Dining Out will be at 5:00 pm on Friday, October 19, at Paisano Café, 1740 Calle De Mercado, (which intersects with Avenidas de Mesilla south of I-10) Please sign up by Wednesday, October 17, in the church lobby. You may also contact DiningOut@uuchurchlc.org if you have questions.
Oct 19 Ministry Startup Workshop
Come one, come all! The congregation is invited to the Ministry Startup Workshop on Oct 19, 2018 at 9 AM until noon, the campus location is to be determined. There will be a 2nd session from 1 – 4 PM for staff, board, the Committee on Ministry, and the Ministerial Search Committee.

This workshop is vital to the success of our newly-called minister, Rev. Xolani Kacela. During the workshop, there will be an exploration of the church's timeline, exercises on congregational resilience and strengths, training on anti-white supremacy, and work on imagining a hopeful future in shared ministry.

The workshops will be facilitated by Dr. Janice Marie Johnson, Dir., Unitarian Universalist Association Multicultural Ministries and Leadership and Multicultural Growth and Witness, and Dr. Amy Rowland, LSW, of Creative Resilience Consulting and Unitarian Universalist Association Staff Consultant.

Your attendance is crucial, especially if you are in a church leadership role. Please mark your calendars and plan to attend.
Board of Trustees
President Charlie Scholz
Now it's Up to Us To Dream Big and Dream Fast
I would like to thank Finance Chair Dick Bagby and his committee for their work on the 2019 Budget proposal. They consulted with the Committee Chairs as well as the Program Directors to learn their needs and dreams. Then, with the help of our Congregational Administrator and our new Minister they created the best Budget we've ever seen.

I'd also like to thank the co-chairs of the Stewardship Committee, Dave Steele and Karen Hall and their colleagues, for their vision in creating the strategic plan to make this Pledge Drive the best we ever had.

Finally, I'd like to thank the Board for carrying out the task of going through the Budget item by item, asking for explanations when they were needed, and then approving it unanimously.

Our Pledge Campaign theme is Dream Big and Dream Fast. Now it's up to us to carry it out.

In faith, Charlie
Choir and Music
Music Notes
MUSIC NOTES, by Catherine Massey

Recently Cathy Carver tagged me on Facebook with a satirical Lutheran article entitled "Hundreds Hospitalized After New Hymn Introduced in Church." The article begins, "Hundreds were hospitalized and scores more traumatized for life in the wake of a disastrous hymn roll-out this past Sunday.  Recklessly acting in a way contrary to all Lutheran sensibilities, Pastor Norman Schroeder inserted a previously unsung hymn…into the church service." Could this happen here?

The month of September was my 20th anniversary as Director of Music with our congregation.  When I began, I brushed off my skills at the piano to play hymns and classical and/or jazz piano solos.  I had not played publicly for more than 20 years, due to my unhappy experience as a piano major at UT Austin as an 18-year-old.  Our church needed a regular musician, so I volunteered for a few Sundays.  The response was so warm that I offered to play regularly for about $25 per Sunday.

In 2000, there were enough people who wanted to sing in a regular choir that we needed to start one.  I did not have training as a conductor, but I found out about the Unitarian Universalist Musicians Network annual conference that summer in San Diego.  I offered to go and learn how to get started, and the Board of Trustees and congregation supported me.  We started up the choir that fall.

Back then, the congregation did not have much confidence in singing.  I started using what I learned at each Unitarian Universalist Musicians Network (UUMN) summer conference, and it was hard sometimes.  We couldn't really sing rounds, and new or unfamiliar hymns were definitely a challenge.  But we kept trying, bravely, willing to fail in the attempt if need be.  And when we failed, we laughed.  Really, what's the worst thing that can happen?  We are singing!

As my skills improved, and as this congregation grew to trust me more and more, we all got better.  Over the years we have sung chants, rounds, songs taught by rote in Zulu (with gestures!), and all of Jason Shelton's hymns when they were brand-new and not in a hymnal yet.  Now we are a singing congregation!  Having an excellent choir for support has enhanced the confidence of all.  And leading congregational singing is my favorite thing in the world to do, as I keep saying!

So I'm going to say:  No!  We are not going to have a panic here if we sing something unfamiliar!  We will do what we do—joining our voices and breath in community, strengthening the bonds holding us together, and welcoming others to join in.

Catherine Massey, Director of Music

UUMN Credentialed Music Leader
Religious Education
R.E. Matters
Faith Formation for All Ages
Expanding Love, Building Identity, Exploring Beliefs

Faith Formation, a not so new concept in religious education circles, has been adopted by many Christian and Unitarian Universalist congregations.  It has been shown to increase meaningful participation throughout the life of a church and its members.

The basics; to expand on or grow one's personal religious identity by explicitly using the church's feasts, seasons, liturgy, justice making, spirituality and community  life as THE curricula for all ages. It is to engage all ages in active participation throughout the life of the church most especially at Sunday worship, the time when most gather together.

This is how we build a lasting faith community, one that will outlive us and serve this community.

We already gather together to worship every Sunday.  We maintain age specific programs that address appropriate needs.

We  plan to involve all generations in learning a core curriculum through intergenerational learning.  And we hope to equip families with the tools they need that support the values and ethics of Unitarian Universalism at home, in the workplace and at school.

This does not mean we will all learn the exact same message in the exact same ways. It does mean that we have a cohesive faith identity with our core values at its heart.  What are our core values?
Living and expanding in love
Building a Unitarian Universalist faith identity
Exploring our personal and communal beliefs
Upcoming in our Sunday classes: Spirit Play stories for October: The Big Bang, A Chili Communion, The Prayer Labyrinth and Dia de los Muertos

See you on Sunday!

Susan
---
Adult Education Program
Facing Life with Death (eight consecutive sessions)
Thursday, October 4th 11:00 AM-12:30 PM; Religious Education Building
This program facilitates a process of personal reflection, learning, and spiritual growth focused on the topic of death and dying.
Facilitated by Susan Freudenthal, Director of Religious Education

Adult Exploration depends on you!  What interests you?  Are you willing to lead or co-lead a book study?  A conversation? A class?  Fill out a request/proposal and I'll help you make it happen.
https://docs.google.com/document/d/1ldBkScTcz8T6wl_t68EbJ8O-FdxD9RI1rDXx991mMko/edit?usp=sharing
Thanks to Our Greeters and Hospitality Hosts
Greeters in September
Peggy and Joel Brown, Robert Serverance, Jo Ingle, Diane Taylor, Rita Decker, Lyn Pearson, Judi Licht, Martha Loustaunau, Vickie Freeland, Joan and Tom Dormody, Gayle Trantham, Jack Welch, Tom Packard, Susan Bagby, Vijay Bhalla, Nancy Carlson, Diane Lee, Steve Welch, Janet Pitt, Carol Winkler,  Jan Thompson Peggy Devlin and Jean Gilbert. — Peggy Devlin & Joan Dormody, Greeter Coordinators
Hospitality
The Board of Directors provided Sunday hospitality in September.
Generous Giving
It is very easy to make a gift to the church through InFellowship. Donations in memory of members and friends become part of our Endowment Fund. These are gifts that keep on giving.
The Tombaugh Gallery
Call for artists for 2019 shows
The Valley and Its People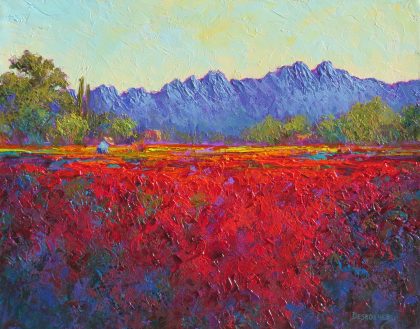 The Tombaugh Gallery proudly presents "The Valley and Its People", an exhibit featuring Jeri Desrochers' oil paintings and Diana LeMarbe's sculptures. There will be a reception on Sunday, October 7, 11:30 to 1:00, with artist demonstrations at 11:45. The exhibit continues through October 20.

Jeri Desrochers finds inspiration to paint in the intense light and color of the Southwest landscapes. She appreciates the "deep purples that glow through the shadows in this starkly beautiful area of the country. I often begin my oils with a background of transparent glowing tones that peeks through the thick impasto texture of surface colors."

During the 1990's Jeri concentrated on watercolor, then experimented with glass and sculpture during the early 2000's. Now she has found her passion in thick impasto oil paint, experimenting with new techniques and materials, always striving to push the boundaries of color and texture.

Diana LeMarbe is mesmerized by the body movement of ordinary people going about their ordinary tasks of life. As an artist in her senior years, who on several occasions has lost mobility and regained it, she is acutely aware of the beauty of movement. She watches the fluidity of movement with the eye of a sculptor. She does not attempt "to stylize, pose, or impose false dignity on my work, but rather capture the unconscious delight of motion."

Diana has lived in the Deming area since 1979. Her specialty areas have been jewelry making and pottery. She now considers herself a tile maker and sculptor. Her current work is with fiber clay sculpting human forms. This clay body is not fired and is built on a metal armature. It looks like bronze, but unlike metal, is affordable!

For details, contact Gallery@uuchurchlc.org, or call the church at 522-7281. The Tombaugh Gallery is located inside the Unitarian Universalist Church, 2000 South Solano Drive, Las Cruces, NM and is open Wednesday – Saturday 10 am – 2 pm. Visit the gallery on Facebook.
Regular Monthly Activities
Unless otherwise stated, all events will be held at the church. Please check the church's online calendar to ensure the most recent times and places for these events. Newcomers are invited to participate in these activities.

Bridge Group plays bridge on the first, third and fifth Thursdays at 1:00 pm in the church lobby. If you want to play, be sure to contact Nancy Anderson bridge@uuchurchlc.org a few days before so we know the number of players.

Desert Spirit CUUPs is a Las Cruces chapter of the Covenant of Unitarian Universalist Pagans. We practice and educate others on Earth-centered spirituality. We gather monthly on the 3rd Saturday of each month at 6 pm for a potluck and either ritual or an informative class. All events are open to everyone interested in learning and/or growing in their spiritual path. Events held at the church unless otherwise noted. Visit http://www.facebook.com/desertspiritcuups or email lascrucescuups@gmail.com.

Dining Out: A different restaurant every month and dinner with church members. Signup sheets are in the church lobby on the welcome counter. You should sign up not later than the Wednesday prior to the dinner. Look in the church newsletter "The Light" for the exact time, date and location or contact DiningOut@uuchurchlc.org for more information or to reserve a place for the dinner.

Lunch Bunch is a weekly lunch-time get together. Everyone is invited to bring a lunch to the church library every Wednesday at 12:00 noon and enjoy the company of fellow Unitarian Universalists.

MoonSisters Group: This women's group meets once monthly. Contact Cass Calway for more information or visit the group's Facebook page: https://www.facebook.com/groups/342484072516356/

Quilting Bee: The UU Bee Welcome, meets every week in the church lobby. The Bee is open to all levels of quilters, both members and non-members. It welcomes all styles of quilting work from machine-quilting to hand-quilting to appliqué. The purpose of a quilting bee is to provide an opportunity for quilters to spend time together as they work on their individual quilting projects and exchange tips of the trade, encourage and support each other, share new ideas, deepen friendships, and generally have a good time. A $1 donation per quilter will be given at each session to cover the cost of utilities. The contact person is Chris Ramsey.

Unitarian Universalist Children's Playgroups (all are welcome): Parents/caregivers must remain on site with their children. The members of the group plan outings, holiday celebrations and other activities together. Contact Susan Freudenthal, DRE, for more information.

Monthly Calendar: To get the information you need about the many and varied activities of our church, go to http://www.uuchurchlc.org/ and scroll down the page to the calendar and events listings.